---
MIDIvampire-I
The MIDIvampire-I is a 4-voice polyphonic synth that is powered from the MIDI data line. No batteries required! It has 16 different wavetables, AM, FM, attack, decay, reverb, and a slew of other paramters, all controlled by MIDI CC messages.
---
MIDIvampire-II
The MIDIvampire-II is a 4-voice drum machine that is powered from the MIDI data line. No batteries required! It has a snare, hi-hat, cymbal, and bass drum, or you can build your own percussion sounds with MIDI CC messages.
---
Stomp Shield Kit
Turn your Arduino into an effects pedal! With a guitar pre-amp, feedback and mix knobs, and 3-pole anti-aliasing filters, it has everything you need to get started making your own effects. Works with Arduino Uno and Duemilanove.
---
Mixtape Alpha
An 8-bit synth that fits in your pocket – with 4 voices, 4 effects, 5 note polyphony, and record! Create compositions and trade with friends! Runs for 40 hours off a coin-cell battery, and has a headphone output.
---
Audio Codec Shield
The Audio Codec Shield interfaces with an Arduino or Maple to give 44.1/16b, stereo, digtal audio control. It has 2 knobs for modding parameters in your code, and a headphone output. Comes ready to use – just add a Maple (or Arduino)!
---
rePatcher Shield
An Arduino compatible patchbay matrix. rePatcher allows you to move your MAX/MSP or Pure Data wires around with physical cables. Using the Arduino, it creates a serial data stream over USB which can be hacked to control other programs as well.
---
bootlegMIC
Capture concerts and jam sessions without all the distortion! The bootlegMIC comes as a kit of parts to make a better sounding cellphone microphone. A good intro to learning about, and using, electret microphones.
---
MICrODEC
An open-source, fully programmable and hackable digital effects box. The MICrODEC is 44.1/16b, stereo, with up to 6s of sample time. It can store 16 different programs, and comes pre-programmed with a range of useful effects.
---
Audio Sniffer
Listen to what your circuits have to say! The Audio Sniffer is a circuit debugging tool that lets you use your ears to hear whats going on (or not going on). It's a high quality headphone amp that lets you hear things you could never see on an oscilloscope.
---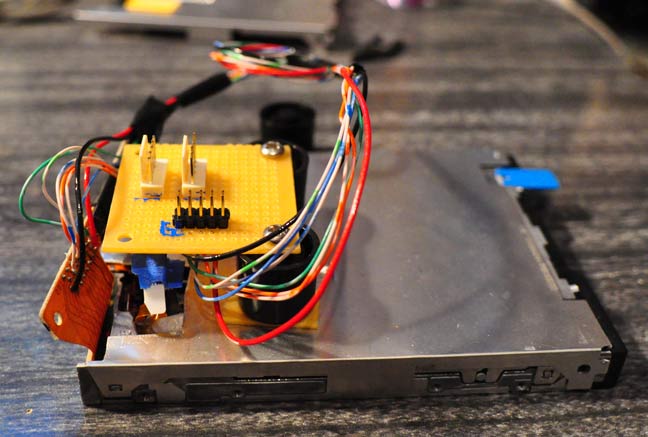 Floppy Audio
Repurpose your old 3.5″ floppy drives to make an analog delay box! check out our plans and make your own improvements.
---